I promise three relief for "I want to sell".
1.Ass Al is an expensive purchase.

I pay by a lump in the examination car taking care of next month.
Is transporting the vehicle; trouble even if is defective, bear all it in-house, and handle it.
As I do not influence a purchase assessment amount of money at all, I am reliable to the receipt of money.
Ass Al calls everywhere in the whole country.
I call to leave it in a company specialized in our designated sending by land.
The company names written by a body seal all it up and run.
I am reliable by a moving run that I turn down the land race results and a company name for no violation without an accident more than 40 years.
3.It is all painting of the relief after delivery

Your image color vehicle is painted in our designated color after taking care of, and the appearance is changed, too.
We do not have to worry to operate with the car of your image color in a town not to know. I am reliable after delivery.
I promise three relief for "I want to buy it".
1.Ass Al is an engineer group of the medical X-ray machine.

I carry out check by the cooperation with the manufacturer.
I have I actually touch the device, and a customer operate it, and it is delivery after I have you confirm it.
2.It is perfect after the purchase from ass Al in after.

I carry out process management thoroughly and hold it with responsibility in after after the delivery of goods.
I ask about repair, the maintenance in cooperation with a manufacturer.
3.Ass Al performs the setting of the in-vehicle device.

I meet a change or the request that I want to update in a deployment device with a customer.
I make use of more than 100 deployment experience in the past and meet every needs of the customer.
Please order it from the deployment to the reinforcement of the vehicle, installing work whatever you want.
Greetings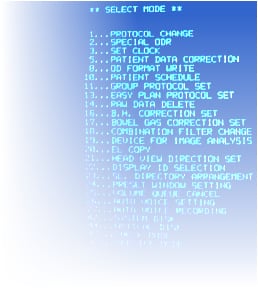 I was engaged in the handling duties of the X-rays device for the medical care for many years at the place of the group medical examination.
The deployment X-rays device of the examination vehicle changes at an inverter device from a condenser device, too,
The apparatus for the medicine is consisting of analog now in the digital times, too.
The distribution of the used medical equipment greatly changed with the passage of times, too.
Let alone law abiding, I make an effort to provide "reliable" "security" and a "reasonable" thing.
I struggle with a serviceman every day to be able to cope from a condenser X-rays device to a digital X-rays device widely and expect the satisfaction of the customer.
Please in the future US ALL CO.,LTD thank you for your cooperation.